Drive Footfall to your Stand. Get more leads. Deliver your message with magic
Get more leads with magic
Exhibiting at a Trade Show is a huge commitment in terms of budget, manpower and time. And there's no guarantee of a return on your investment at the end of the event! 
What if you could ensure footfall to your stand, so that your team are talking to prospects, instead of sitting around scrolling through Facebook on their smartphones?
Find out how I can use magic to generate a buzz around your stand and deliver you a steady steam of pre-qualified leads.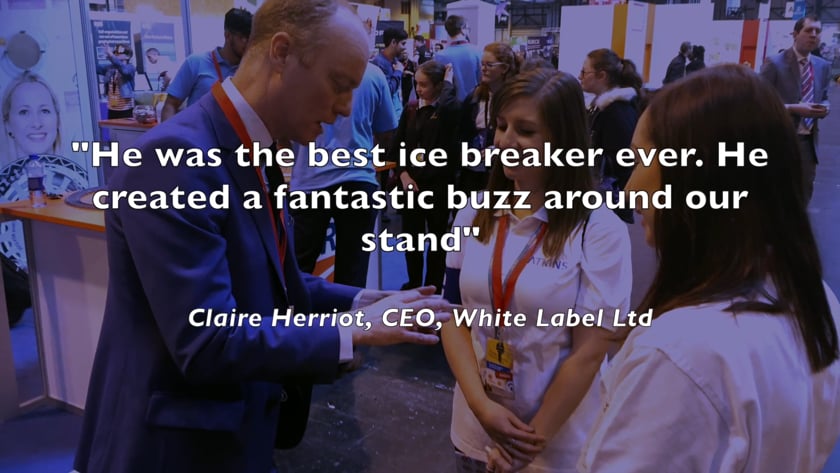 "We spoke to 4 times more people this year than last….this was mostly down to Darren and what he did for us."
Trade Show Magic: How It Works
You've tried the usual stuff like promotional pens, sweets and free coffee, but they just don't work. The problem is, everybody's doing the same thing, and gimmicks like that don't engage with customers or encourage them to stay and talk to you.
Magic is a great way to grab the attention of passers-by, without resorting to pushy sales techniques. 
As a Trade Show Magician, I'll help you build a crowd around your stand, while promoting your products in a unique and memorable way. 
The magic I perform will deliver your key messages, with opportunities for unique giveaways so that prospects remember you after the show.
More leads. More business.
Is your main objective lead generation? I'll introduce the hottest prospects straight to your sales team. 
You'll get additional social media coverage at the event, encouraging potential customers to seek out your company's stand ahead of your competition.
We were so pleased with Darren and the buzz he generated on our stand that we booked him for the following year!""
All of my magic will be tailored to deliver your brand message and objectives. Here's how we'll typically work together:
Initial calls and meeting to discuss your objectives 
I'll design magic performances to reinforce your marketing message and deliver your goals for the show
On the day, I'll engage with passers-by and create a crowd around your stand with incredible magic
You'll get increased visibility across the event's social media channels with my help.
A focus on lead generation – you'll get the new business you need to make the event a success
"He was the best ice breaker ever. He created a fantastic buzz around our stand, entertaining and baffling everyone. We would recommend him without hesitation and definitely use him again."
"From the outset he was very professional and took a real interest in what we wanted to get out of the experience. He met the team in advance, and on the day went out of his way to get people to our stand. His marketing background was a real asset. Darren was a great find and I'd recommend him to anyone!"