Mind-blowing Magic that will Amaze your colleagues
office Christmas Parties are often Dull
Let's face it, they're usually forgettable.
There might be some gossip about your boss's dodgy dance moves the next day, but by Monday lunchtime you'll barely remember anything.
What if you could guarantee a brilliant Christmas party that everybody will still be talking about in January?
Get in touch to find out why companies like Google, Barclaycard, PwC, Bank of England and Deloitte book me for their festive events.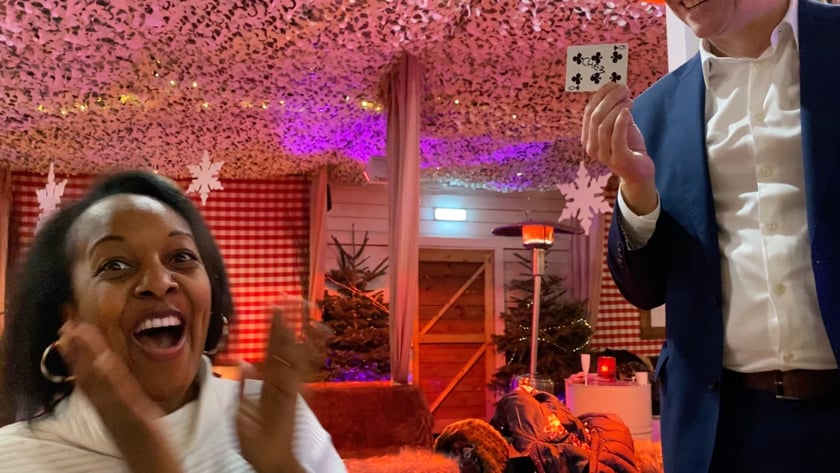 "We hired Darren to entertain at our Christmas office party, he went down and absolute storm and his magic act was amazing. I could not recommend him highly enough.."
The Best Christmas party you've ever had
Magic is a brilliant way to get your Christmas party off to a great start and make sure you remember it for a long time afterwards.
I'll amaze you and your team with the kind of close-up magic you usually only see on TV, but right in front of your eyes. No camera tricks here!
Perfect for drinks parties or sit-down meals.
Entertainment you can trust
When I'm not booked as a Christmas Party magician for companies like Google, Barclaycard, PwC and the Bank of England, you can see me performing at venues like Wonderville in London's West End and at The Magic Circle.
I'm also a two-times finalist in The Magic Circle Close-Up Magician of The Year competition and a regular performer at The Royal Variety Performance Afterparty.  I've also been featured on ITV, Sky News, The Travel Channel and in The Wall Street Journal and the "i".
But don't take my word for it – you can read a bunch of nice things people have said about me here!
"Everyone was in awe and 'wowed' by the magic he performed. Definitely the highlight of our Christmas Party!"
"We had Darren at our recent Christmas party and he was amazing - the feedback from all employees was amazing. We will definitely be booking Darren again for future events."
easy booking process. it works like magic!
How long will you perform at our Christmas Party for?
My Christmas Party Magician packages are not strictly time-based and it really depends on the individual event, how many guests there are and the type of performance you've booked.
As a rough guide, I can typically entertain about 100 people over a couple of hours or so with close-up magic over drinks, and about 10 tables during a typical three-course meal.
My after-dinner show is flexible - 30 minutes is usually about right, but I can make this shorter or longer depending on what you need. 
The most important thing is that everyone sees some magic and everybody leaves your event with great memories! I don't take back-to back bookings, so if your timings change or things overrun a bit, you can be safe in the knowledge I won't be running off to another event.
Are there extra costs for travel?
The packages are for events anywhere in the UK and I don't charge extra for travel.
If your event is more than a couple of hours from London, I may ask for you to provide overnight accommodation.
For international events, flights and accommodation would be an additional cost. I'll discuss with you in relation to your event.
How does magic work at a drinks event?
I'll work the room, introduce myself to people and perform magic for small groups at a time.
Hiring a Christmas Party Magician is a brilliant way to create a buzz in the room. It creates a focal point, gets people talking (and laughing!) and ensures everyone remember the party for a long time afterwards.
Typically this works best during the earlier part of the evening - once people have arrived, got a drink in their hand and had a chance to say hi to people they know.
How does magic during dinner work?
During a dinner with more than 2-3 tables, there are usually natural lulls at tables as one group finishes eating and others have just started.
I'll perform at each table during these times, keeping the energy up and making sure there are no boring silences while people wait for the next course.
For smaller groups, I can perform a short "set" for everybody between each course.
I also have a full after-dinner magic show – the perfect way to end the evening on a high, and create long-lasting memories of your party.
What kind of tricks will you do?
I do a range of magic and mind-reading including card tricks, magic with money, mobile phones, drinks and other everyday items.
Everything is geared towards an adult corporate audience. Take a look at some of my magic videos to get a feel for the kind of thing I do.
Are you insured?
Yes. I have Public Liability Insurance for £10 million via Equity.
Why should I book you as our Christmas party magician?
I've got over 10 years experience working as a Christmas party magician for big brands including Google, Amazon, Pinterest, Deutsche Bank, JP Morgan, Intel, Deloitte, PwC and Salesforce. Take a look at some of my testimonials, and watch some magic videos to see if you think I'd be a good fit for your party. I'm also a member of The Magic Circle.
Can I pay by company credit card?
Yes! After you book, I'll send an invoice which can be paid by bank transfer, credit or debit card, or PayPal
How did you do that?
I'm sorry, as a member of The Magic Circle I'm sworn to secrecy. If I told you, I'd have to kill you.