Guaranteed to make your Party unforgettable
Want the best magician for your party?
You're in the right place! I'm Darren Delaney and I'm a party magician for special occasions, just like the one that you're planning.
Parties often take a while to get going, especially if people don't know each other well. What if you could guarantee an amazing party that starts on a high and everybody remembers for a long time afterwards?
Whether it's a drinks party for 200 people, or an intimate dinner for 10, I'll provide the magic to make sure it's the best night you've ever had.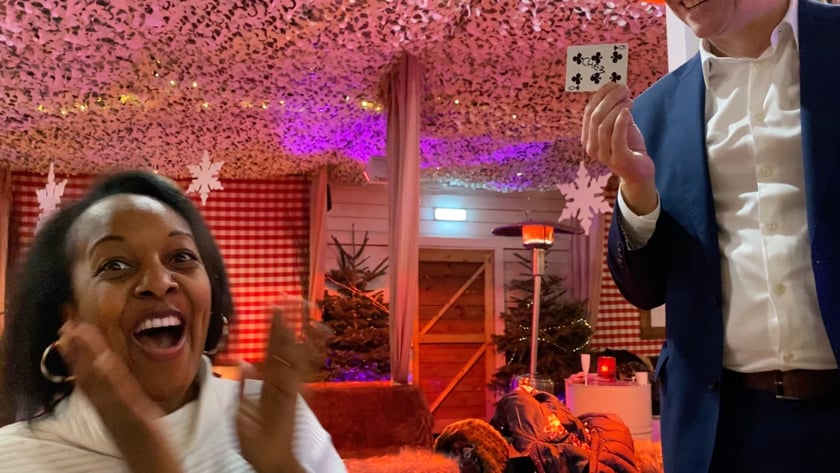 "Darren is Magic! My guests were amazed and spellbound!
magic for all types of parties
Create a buzz right from the start of the night, and leave everyone talking about it for a long time afterwards.
I'll mingle with guests and amaze them with the kind of close-up magic you usually only see on TV, but right in front of their eyes with no camera tricks involved!
The perfect magician for birthday parties, anniversaries, or any other kind of party!
No more awkward silences while your guests wait for dessert. I'll perform mind-blowing magic at each table between each course.
Guaranteed to keep the energy going throughout the meal, and provide everybody with an instant conversation starter.
If it's someone's birthday, I'll finish with some magic involving them for the whole room to help you celebrate.
Need something extra special to for a truly unforgettable party?
My after-dinner show is the perfect way to add the "wow" factor to your party.
45 minutes of mind-boggling magic, mind-reading and laughter. Your guests will be talking about it for months afterwards!
"He was amazing and people are still talking about him. Absolutely first class performer and entertainer!"
easy booking process. it works like magic!
one of the most sought-after party magicians in the UK
Some parties have a slow start. Early in the evening, things don't get started until people have enough "dutch courage" to get in the party mood.
I'll have your guests talking and laughing from the moment the party starts. I'll amaze them with the kind of close-up magic you usually only see on TV, but right in front of their eyes with no camera tricks!
Yes, I'm a member of The Magic Circle and I've won a bunch of awards. But don't take my word for it – you can read a bunch of nice things people have said about me here!
Get in touch to find out why I'm the magician of choice for people like Jez Butterworth (Jerusalem, The Ferryman), Iain Glen (Game of Thrones), The Mittal Family and Dame Esther Rantzen DBE.
I perform as a magician for adults parties. If you're looking for a kid's entertainer, that's not me!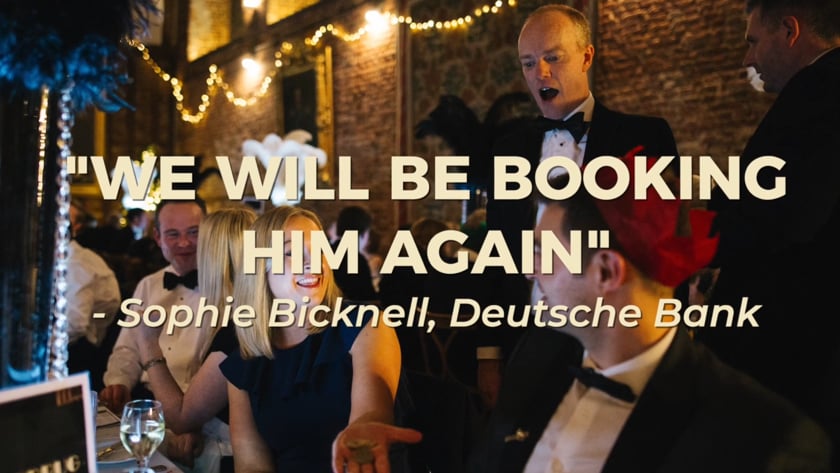 "Thank you for a night full of wonder!"
What kind of parties can I hire you for?
People hire me to perform at birthday parties, wedding anniversaries and all kinds of special occasions.
I've performed for 6 people over dinner, and at parties with 200+ people attending. Whatever you're planning, I'm sure I'll be able to accommodate!
Just one thing - I'm an adult party magician. Not in an "X-rated" way - just that I don't do kid's parties! You need a specialist children's entertainer for that. Do get in touch if you'd like a recommendation.
How long will you perform at my party?
It really depends on the type of party and how many people are coming.
As a rough rule of thumb, I can entertain around 100 people at a drinks party with close-up magic over a couple of hours or so. 
During a typical 3-course meal, I can entertain 10-12 tables with close-up magic.
For after-dinner entertainment, I usually perform a show that's around 45 minutes long. This can be adapted to work for groups of 10 or 500!
What kind of tricks will you do?
Why spoil the surprise? But seriously – I do a wide variety of different magic tricks and mind-reading. You can get a feel for my style by watching some of my magic videos. You might also want to check some testimonials from previous clients!
Do you do children's parties?
I'm afraid I don't - but if you need a recommendation, I'll gladly provide one.
If you're hosting a party for adults and there will be a kids there, I'll have a couple of things they can enjoy too though!
How can I pay?
You can pay by bank transfer, credit or debit card, or PayPal.
Are you insured?
Yes, I have Public Liability Insurance to work as a party magician for up to £10,000,000
How did you do that?
I'm sorry, as a member of The Magic Circle I'm sworn to secrecy. If I told you, I'd have to kill you.