the corporate event magician
Mind-blowing Magic to impress your clients (and your boss!)
business events don't have to be boring
Corporate events are often dull. What if you could guarantee a fun and engaging event that everyone remembers, for the all the right reasons?
Whether you want a corporate magician for networking drinks, at the tables during a gala dinner, or a mind-blowing magic show after a conference, I'll make sure your event is unforgettable.
Get in touch to find out why companies like Google, Barclaycard, PwC, Bank of England and Pinterest hire me as their corporate event magician.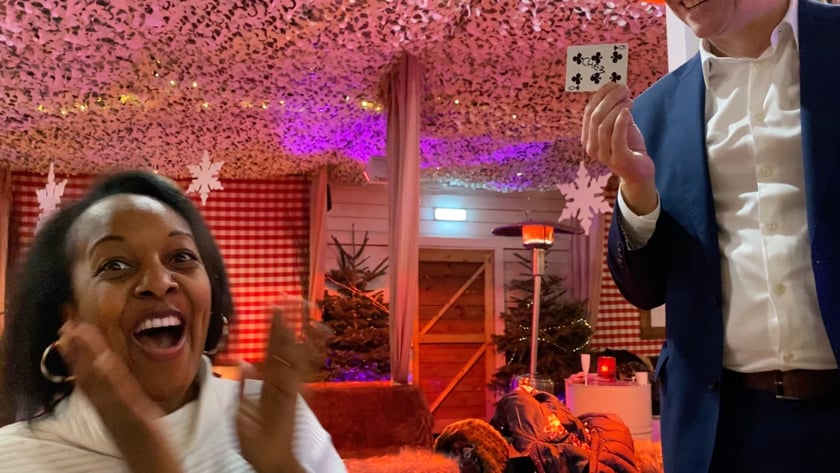 "I could not recommend Darren more highly. He was engaging, entertaining and charming at our event."
mind-blowing magic for corporate events
Create a buzz right from the start of your event, and leave people talking about it for ages afterwards.
I'll mingle with guests and perform the kind of close-up magic you usually only see on TV, but right in front of their eyes with no camera tricks involved.
A brilliant ice-breaker guaranteed to get everyone talking, laughing and generally enjoying themselves!
No more awkward silences while guests wait for their dessert.
I'll perform mind-blowing magic at each table between each course.
Guaranteed to keep the energy going throughout the meal, and provide everyone with an instant conversation starter!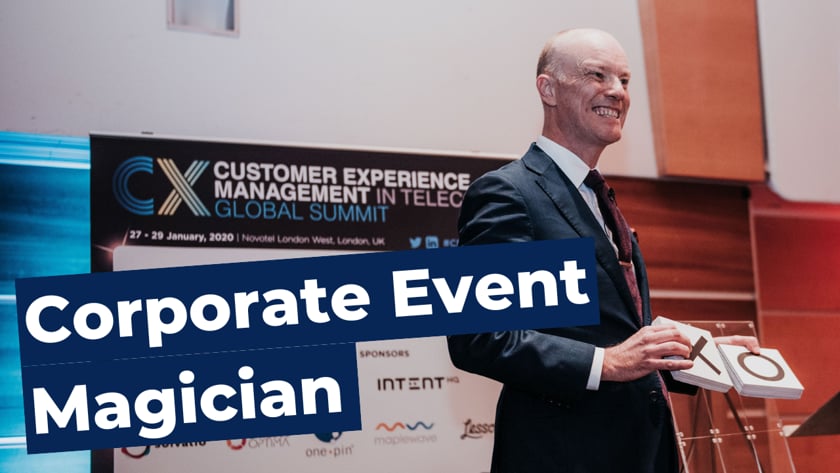 Watch the 60 second video
After-dinner and event hosting
Need something extra special to finish your event?
Or maybe you need a host for the night with a magical touch?
My magic and mind-reading performances can be adapted to most events; ask me about incorporating your company message or branding into my show!
"He entertained my team thoroughly allowing us to unwind after an intense day of meetings. I am going to book him again ASAP!"
"He went down an absolute storm and his magic act was amazing. I could not recommend him highly enough."
easy booking process. it works like magic!
What kind of corporate events do you perform at?
For over 10 years, I've performed as a corporate magician at every kind of event you could imagine! Client drinks, team nights out, gala dinners, award ceremonies, conferences, product launches, and everything in between.
I also work as a trade show magician, helping clients to get more footfall to their exhibition stand. Whatever your event, I've probably worked on something like it before. Get in touch for a chat about ideas and options.
How long will you perform at my corporate event for?
That very much depends on the type of event, number of attendees, and the type of performance I'm doing.
As a rough rule of thumb, I can entertain around 100-150 people at a drinks event  with close-up magic over a couple of hours or so. 
During a typical 3-course meal, I can entertain 10-12 tables with close-up magic.
For after-dinner entertainment, I usually perform a show that's 30 minutes long, but this can be adapted to fit your event. This works for groups of 10 or 500!

If you're organising a much larger event, I can also arrange additional performers for you as needed.
I'm hosting a corporate drinks event for clients. How will magic work at that?
I'll work the room and perform for small groups at a time. Close-up magic at a corporate drinks event is a brilliant way to create a buzz in the room. It creates a focal point, gets people talking (and laughing!) and ensures your clients will remember the event for a long time afterwards. 
How does magic work at a corporate dinner event?
During a dinner, there are usually natural lulls at tables as one group finishes eating and others have just started. I'll perform at each table during these times, keeping the energy up and making sure there are no boring silences while people wait for the next course.
I also have a full after-dinner magic show – the perfect way to end the evening on a high, and create long-lasting memories of your event.
I need a magician for my company event. Why should I book you?
I've got over 10 years experience working as a corporate magician for big brands including Google, Amazon, Pinterest, Deutsche Bank, JP Morgan, Intel, Deloitte, PwC and Salesforce. Take a look at some of my testimonials, and watch some magic videos to see if you think I'd be a good fit for your event. I'm also a member of The Magic Circle
What kind of tricks will you do?
Why spoil the surprise? But seriously – I do a wide variety of different magic tricks and mind-reading and everything is geared towards adult corporate audiences. You can get a feel for my style by watching some of my magic videos. You might also want to check some testimonials from previous clients!
Who have you worked for?
I'm proud to count a bunch of big brands amongst my clients. As a corporate magician, I've worked for Google, Amazon, Pinterest, Deutsche Bank, JP Morgan, Intel, Deloitte and Salesforce. You can read testimonials from some of them here.
Can I pay by company credit card?
Yes! When you book me as a corporate magician for your event, I'll send an invoice which can be paid by bank transfer, credit or debit card, or PayPal.
Are you insured?
Yes, I have Public Liability Insurance to work as a corporate magician up to £10,000,000
How did you do that?
I'm sorry, as a member of The Magic Circle I'm sworn to secrecy. If I told you, I'd have to kill you.